DC Collectibles – DC Essentials 7″ The Flash Figure Now $4.97 On Amazon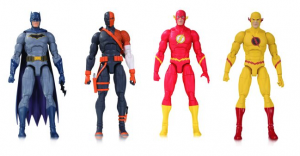 Amazon.com is offering The Flash from DC Collectibles DC Essentials line for just $4.97 at this time, which is the lowest price we've ever seen this figure go for. Other figures, including Batman, Deathstroke and Reverse Flash are also available that are shown above. Get caught up and read our review of the figure right HERE, and get this figure for just $4.97 by clicking right HERE.
The DC Essentials Action Figure line gets two new heroes-and two new villains! Don't miss your chance to own your own brand-new Batman, Deathstroke, The Flash and Reverse-Flash action figures! Figures sold separately. The Flash stands 6.96″ tall.