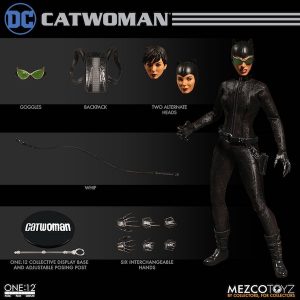 As part of Entertainment Earth's Last Minute Gift Sale, they are offering Mezco Toyz Catwoman One:12 Collective figure for $67.99, which is $12 off the MSRP. This sale ends TODAY, December 18th. So make sure to get your orders in NOW! Use the hyperlinks above to order.
In addition, ALSO make sure to use our EXCLUSIVE $10 coupon code of SAVE10th on an in-stock order of $100 or more. This coupon expires on December 22nd, so make sure to use that. We want to offer a coupon like this next year, and this coupon code needs to perform well enough this year for that to happen!!
The 21 Business Days of Christmas are coming to an end with a bang! For five days only – December 16 through December 20, 2018 – save up to 95% on the exciting last-minute gifts you need to make this the best holiday ever, plus get Free Shipping if you place your in-stock order of $25 or more by December 18. Don't wait. The savings are almost gone! Sale ends December 20, 2018!
Also, make sure to check out our custom product page featured on Entertainment Earth, which includes products specifically chosen by ToyHypeUSA staff.