Fisher-Price Imaginext DC Super Friends Batman Ooze Pit Now Under $9 On Amazon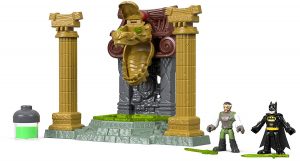 Incredible! Amazon is offering a blowout price on the new DC Super Friends Batman Ooze Pit by Fisher-Price, which is now $8.76, was $25.99. This price is down again from $12 last week, and we're wondering why one of the best Imaginext DC sets is going for such a rock bottom price point right now. This set is part of their Imaginext line that includes Batman, Ra's al Ghul, as well as a new playset as shown. The Ooze Pit includes real ooze that is poured on top of the dragon head and comes out of his mouth, which drops down into the pit below.
Head on over to Amazon.com and grab this set now!
Canadian readers – check out Amazon.ca, which has it listed for CDN 34.99.
As readers are pointing out on social media, this resembles the Slime Pit from Masters of the Universe, and since Mattel owns Fisher-Price, these two sets are similar to each other as far as a concept. With She-Ra returning on Netflix, does this mean that the Slime Pit and a new Masters of the Universe line isn't far behind? Only time will tell.
Open the Dragon head & pour in the green ooze

With a figure in the center of the pit, press the button to release the ooze!

Includes Batman and Ra's al Ghul figures, ooze canister, reusable ooze, and 2 weapon accessories
Young crimefighters can create all sorts of exciting battles with the DC Super Friends Batman Ooze Pit. Kids can help Ra's al Ghul tap into the power of the ooze and launch into battle with the Caped Crusader. Will this extra boost of fighting force help the Super-Villain defeat Batman ? That's for your young Super Hero to decide!
Ra's al Ghul hopes the power of the ooze pit can help him finally defeat the Caped Crusader. Pour the green ooze into the dragon's head, then press the red button to send it flowing down on the figure in the center. Can Batman defeat this extra-powerful Ra's al Ghul? That's for your young Super Hero to decide! Fisher-Price Imaginext Imagine What's Next!