Mezco Toyz One:12 Collective DC Comics Darkseid Figure Now Shipping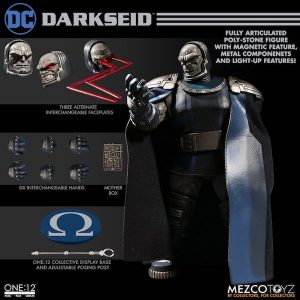 Mezco Toyz is now shipping their One:12 Collective DC Comics Darkseid Figure, which has been shown off any several conventions such as San Diego Comic-Con and New York Comic-Con the past few years. Darkseid stands just under 7 1/2″ tall and has about 28 points of articulation. He includes a light up helmet with four sap out face pieces,  multiple interchangeable hands, a magnetic cloak, a Mother Box, and a figure stand. He is also cast in polystone (most commonly used for statues), with metal pieces for magnetic features.
Look for a review of this figure in the coming weeks.
Pre-Orders are available now on BigBadToyStore, Entertainment Earth, Megalopolis: City Of Collectibles, Things From Another World and Amazon.com. Darkseid is priced at $180 USD, and you can be sure he's a popular figure. So get your pre-orders in now!
The One:12 Collective Darkseid figure is the first ever fully articulated Poly-Stone figure featuring a newly created One:12 Collective body that encompasses his immense stone physique. Incorporating magnetically interchangeable faceplates and light-up Omega Beam eyes, Darkseid is primarily made of Poly-Stone with casted metal accents to achieve a level of authenticity never achieved with the character. The tyrannical New God is clothed in his signature royal tunic with a real metal helmet, chest plate, waist belt, and includes an Apokoliptian ceremonial cloak with an armored harness. His sentient Mother Box super-computer is also made from metal and magnetically stores on the back of his belt.
Darkseid, ruling dictator of the dystopian planet of Apokolips, seeks to abolish freewill and enslave all life in the universe. A being of unparalleled strength, intelligence and boundless evil, his divine powers make him not only a threat to the heroes of earth, but to every world within his grasp.
THE ONE:12 COLLECTIVE DARKSEID FIGURE FEATURES:
One:12 Collective body with over 28 points of articulation
One (1) Light-Up helmet with four (4) magnetically interchangeable faceplates (removable)
Hand painted authentic detailing
Approximately 19 cm tall
Six (6) interchangeable hands

One (1) pair of fists (L&R)
One (1) pair of Mother Box holding hands (L&R)
One (1) pair of posing hands (L&R)
COSTUME:
Metal Helmet
Metal Chest plate and shoulder armor
Vest garment
Metal waist belt
Metal shoulder harness and cape (removable)
Boots with metal heels
ACCESSORIES:
One (1) Mother Box (magnetically attaches to belt)
One (1) One:12 Collective display base with logo
One (1) One:12 Collective adjustable display post
Each One:12 Collective Darkseid figure is packaged in a deluxe metal tin, designed with collectors in mind.