Diamond Select Toys sent along a press release announcing what to expect in stores today at your local comic shop, as its new comic book day and all.
Pre-Orders are available now on Entertainment Earth, BigBadToyStore, Megalopolis: City Of Collectibles, Things From Another World and Amazon.com.
DC Comic Gallery Catwoman PVC Diorama
A Diamond Select Toys release! How purr-fect is your Gallery? The DC Gallery line of PVC dioramas has an unauthorized visitor, as Catwoman breaks into the breakout series of collectibles from DST! Perched atop a massive Egyptian cat-headed statue, Selina Kyle steals the spotlight in this 9-inch-scale diorama, wearing her modern, curve-hugging black costume. Made of a high-quality plastic, and featuring a detailed sculpt and exacting paint applications, it comes packaged in a full-color window box. Designed by Shawn Knapp, sculpted by James Marsano! (Item # JUL182493, SRP: $45.00)
https://shop.diamondselecttoys.com/dc-comic-gallery-catwoman-pvc-diorama
Ghostbusters Select Action Figures Series 9 Real Ghostbusters Asst.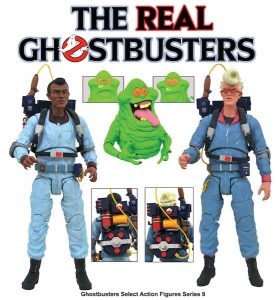 A Diamond Select Toys release! It's time to get real! The Ghostbusters get animated in the newest assortment of Select action figures from Diamond Select Toys, with figures based on the classic Real Ghostbusters cartoon! Egon, Winston and Slimer make up the assortment, with the two 'Busters wearing their color-coded jumpsuits and packing cartoon-accurate gear, and Slimer coming with a support stand and three interchangeable faces! Plus, each figure includes pieces to build a larger diorama – collect all 15 figures in Series 6-10 to construct the firehouse headquarters' sign front doors! Designed by Yuri Tming, and sculpted by Gentle Giant Studios! (Item #8441JUL182490, SRP: $24.99/ea.)
https://shop.diamondselecttoys.com/ghostbusters-rgb-select-action-figures-series-9-set
Marvel Movie Gallery Ant Man and the Wasp PVC Dioramas
A Diamond Select Toys Release! These PVC Dioramas are not actual size! If anything, these 9-inch scale sculptures of Ant-Man and the Wasp are much bigger than the characters will appear in their highly anticipated 2018 superhero sequel. Featuring the heroes launching themselves into action on a penny and a pair of wings, respectively, each sculpture features detailed sculpting by Dave Cortes. Each comes packaged in a full-color window box.
Ant-Man Diorama (Item #JUL182499, SRP: $45.00)
https://shop.diamondselecttoys.com/marvel-movie-gallery-ant-man-the-wasp-ant-man-pvc-figure
Wasp Diorama (Item #JUL182500, SRP: $45.00)
https://shop.diamondselecttoys.com/marvel-movie-gallery-ant-man-the-wasp-the-wasp-pvc-figure-2
Marvel Premier Collection Resin Statue
A Diamond Select Toys release! Magneto, the Master of Magnetism, is sure to attract a lot of attention when you unbox this 12-inch scale statue! Measuring approximately 16 inches tall, this piece depicts the X-Men's greatest foe-turned-ally hovering over a rocky promontory, summoning a translucent sphere of magnetic energy from the very ground beneath him! Limited to only 3,000 pieces, Magneto comes packaged in a numbered, full-color box with a certificate of authenticity. Sculpted by Phil Ramirez! (Item # MAR182430, SRP: $150.00)
https://shop.diamondselecttoys.com/marvel-premier-collection-magneto-resin-statue
Muppets Action Figures Swedish Chef Deluxe Gift Set
A Diamond Select Toys release! Bork bork bork! The Muppets are bork, with the first ever action figure gift set in the Muppets line from DST! The Swedish Chef does the honors, with a massive number of accessories, including a table, pans, pots, food (talking and non-talking) and even a chicken, to make Chicken in the Basket. Packaged in a full-color window box, this figure is in scale to all Select action figures. Sculpted by Gentle Giant Studios! (Item #JUN182316, SRP: $29.99)
https://shop.diamondselecttoys.com/the-muppets